For the complete Winter 2013 Newsletter, click here.
 Thanksgiving Coloring Contest Winners

To celebrate Thanksgiving, Youth Services held a Thanksgiving coloring contest where participants had to color and decorate a turkey that was to be displayed along our stairway. Out of 133 creative entries, we had a total of four winners! Congratulations! Below is a picture of the winning turkeys! Gobble! Gobble!
To enter our next holiday coloring contest, check out Rronaldo's Page or stop by the Youth Services' Desk!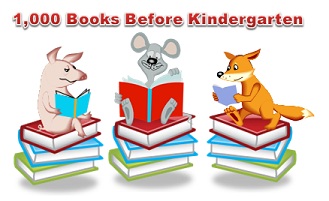 Learning to read begins before your child starts school. The 1,000 Books Before Kindergarten ongoing program encourages you to read 1,000 books to your child before he or she enters kindergarten. Just read three books a day for one year and it will add up to over 1,000 books!
The guidelines are simple: Read together and write down the book titles in your reading log you received when you signed up. After every 100 books read, bring your reading log to the library so we can reward your child with a sticker or a prize and pick up the next reading log sheets. After finishing 1,000 books, your child will receive a book of their choosing to keep and a certificate! This program has no end date except when your child enters kindergarten.
Register now in the Youth Services Department!